Cross Connection Control Device Testing or Backflow Device Testing. Calgary Radiant Heat is certified with the City of Calgary under their certified tester list as cross connection control device specialists in Calgary. This qualifies all devices used for Irrigation DCVA devices and Boiler water feed RP devices. We offer installation of all devices, service of all devices and testing of all cross connection control devices.
Radiant Heat install in residential and commercial. Calgary Radiant Heat provides new radiant heat installations for new build homes and renovation homes. We provide full radiant heat service starting with providing the design, installation, service and maintenance. We stand behind our installation and provide ongoing service after the initial installation. All installations are provided by Certified Plumbing Journeyman with their Master's degree with help of our team members learning the trade, certified apprentices.
Design and Heat Loss Calculations for any project. Calgary Radiant Heat designs all the radiant heat systems they install or service. We have our Hydronic Heating Design Certification and this integral part of the job is done within our own company. We do not subcontract this important feature of the radiant heat installation to wholesalers who do not understand our customer's needs, home or installation requirements with only taking a 1 week course.
Boiler Clean for Viessmann, IBC, Lochinvar, Trinity (NTI), Weil-McLain, Slant Fin, Super Hot (Allied). Calgary Radiant Heat provides maintenance to radiant heat systems. This consists of cleaning boiler heat exchangers on a 1, 2 or 3 year intervals. Timing of heat exchanger cleans depends on the type of boiler and also the use of the boiler. Our certified journeyman can determine what maintenance requirements your system needs.
Other Services for radiant heat:
- Control Services - Caleffi, Tekmar, Uponor, Heatlink (Statlink), Taco, HBX
- Indirect Fired Hot Water Tanks - All models including Bradford White, Viessmann, IBC, Boch and Super Hot

- Cross Connection Control Device Testing or Backflow Device Testing - Watts, Conbracco, Apollo

- Combustion Analysis for hi-efficient appliances

- Water Quality Testing both pH Levels and glycol Levels

- Yearly maintenance programs

> Plumbing residential and commercial new installations and renovations
> Gas residential and commercial new installations and renovations

Contact us to design your heating requirements.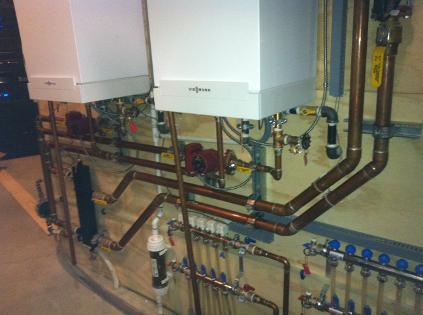 Viessmann Boilers and Backflow device testing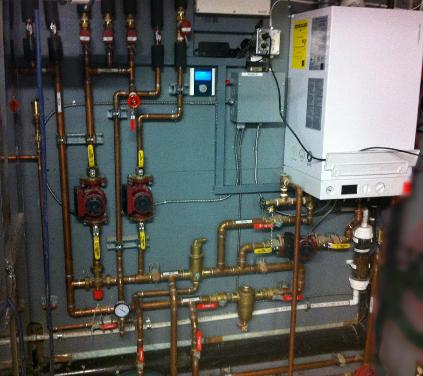 The Luxury of Silent Heat...